Mergers and Acquisitions enable the achievement of specific strategic and financial goals. Mergers and acquisitions provide a number of opportunities for company development, with the most important aspects being change in shareholding structure, improvement of financial standings and improvement of market position which typically translates directly to the increase of shareholder value.
As an exclusive advisor, we support our Clients on each stage while involved in merging or acquiring a company, from start to finish. In this process we do all the planning, research, due diligence, closing, and implementation activities.
We are a competent sell-side and buy-side advisor. We also support spin-off operations.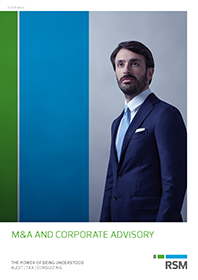 Learn more about Mergers & Acquisitions at RSM Poland
Download!