NetSuite is the #1 cloud ERP Business Software Solution that helps businesses run more efficiently and cost-effectively.
One system for your entire company
Get real-time visibility and control of your business
100% in the cloud – no maintenance or upgrade costs
Best software solution for global finance consolidation, professional services, fintech, high-tech, wholesalers and distributors
NetSuite modules guide
As your business evolves, so should the capabilities of the software that you use to run it. NetSuite ERP platform offers modular solution to meet your unique needs and provide a wide range of features ensuring NetSuite always meets your business needs.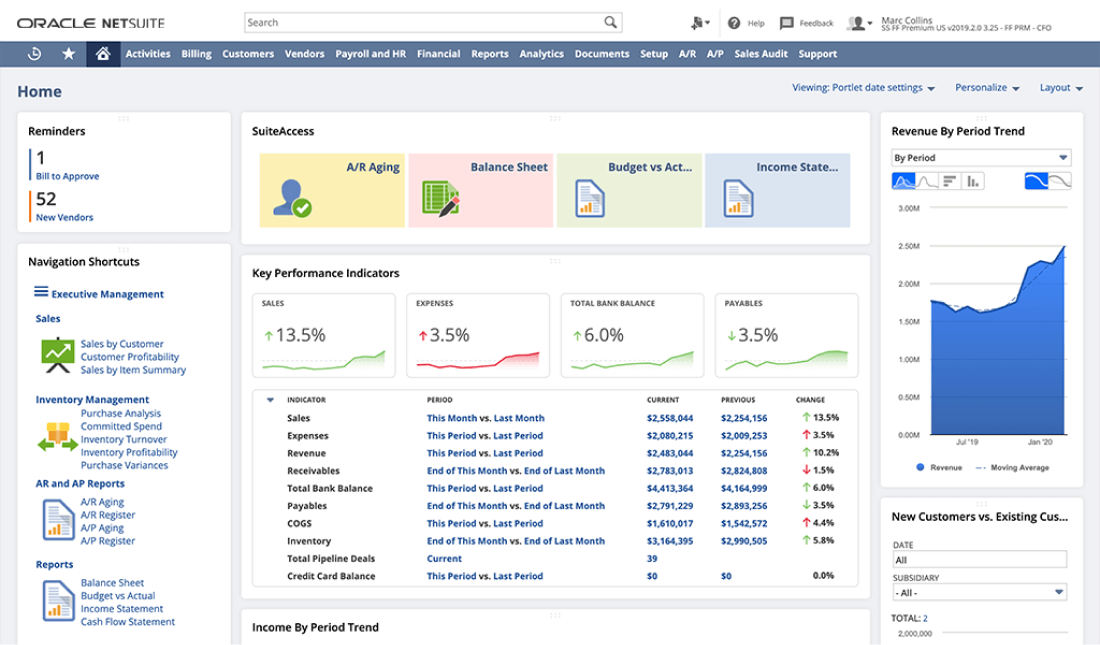 NetSuite OneWorld provides one consolidated system for all of the subsidiaries of your global business. It lets your finance team adjust for local currency and automatically comply with local and regional taxation and legal requirements. It enables real-time tracking of all processes within a company and brings flexibility while incorporating new subsidiaries.
NetSuite Advanced Financials brings added financial management capabilities to NetSuite for budgeting, expense allocations, amortization and statistical accounts. The module provides tools for comprehensive accounting in 52 countries among which there is Polish Localization Package that intends to fully support your financial NetSuite system in compliance with the Polish requirements stated in the Polish Accounting Act.
NetSuite Fixed Assets Management is used for company-owned and leased assets, providing flexible depreciation and amortization schedules and detailed asset reporting. It enables the control of fixed assets in all subsidiaries and preparation of depreciation and amortization schedules in one system thanks to the adaptive accounting features.
NetSuite Planning and Budgeting facilitates both company-wide and departmental planning with modeling capabilities, approval workflows and reporting within one collaborative scalable solution. With less time spent on manual consolidation, troubleshooting, reporting and data loading, finance staff can reallocate time from data entry and formula maintenance to strategic analysis activities that have a greater impact on the company's financial position.
NetSuite Procurement improves the purchasing operations of your business. It helps standardize the vendors and rates for commonly purchased items company-wide, automates requisitioning and purchasing processes and matches purchase orders, receipts and invoices to more efficiently manage cash flow. Gain control of each subsidiary's expenses in one centralized system using the same rules.
NetSuite CRM helps you align and oversee all aspects of customer relationships, including marketing automation, interaction history, customer service and more. It tracks sales and partner performance, as well as providing quotes, managing orders, forecasting sales and integrating with ecommerce platforms.
NetSuite Warehouse Management System helps you more efficiently manage every aspect of warehouse operations, from receiving to picking, cycle counting and returns. It includes shelf-life tracking, barcode scanning to track and suggest putaway locations, interactive warehouse activity dashboards and reporting and warehouse team management — and it can all be done from a mobile RFID device. Transfer your warehouse data to the cloud and develop your business in a flexible manner without the need to use VPN and local infrastructure. Get access to real-time supply chain tracking in all of your subsidiaries in one centralized system.
NetSuite pricing and cost
Implement the solution in your own pace. Every NetSuite installation is unique—and that's good. NetSuite is highly scalable, customizable and tailored to your needs.
Our NetSuite pricing model is adaptable and modular. You only pay for what you use and flexible financing options make it easy to get started. The price depends on several factors, including the selected product configuration, add-on modules, total user count and contract duration. A minimum NetSuite purchase requires that you buy a base account along with at least one user login. That is why you can start small and the system will seamlessly support your growth in the future. You can enhance a standard platform license with advanced NetSuite feature modules and add additional users by purchasing individual access via any browser on a universal cloud-based platform. NetSuite operates as a subscription model. You can decide whether to pay for it monthly, annually, or over longer durations.
Why should I choose RSM?
We are part of RSM - the leading network of independent consultancy and audit companies which has 820 offices in over 120 countries and employs 48,000 specialists all over the world.
With us you get access to local team with global approach. Within our RSM global network we have 17 resource centers across the globe: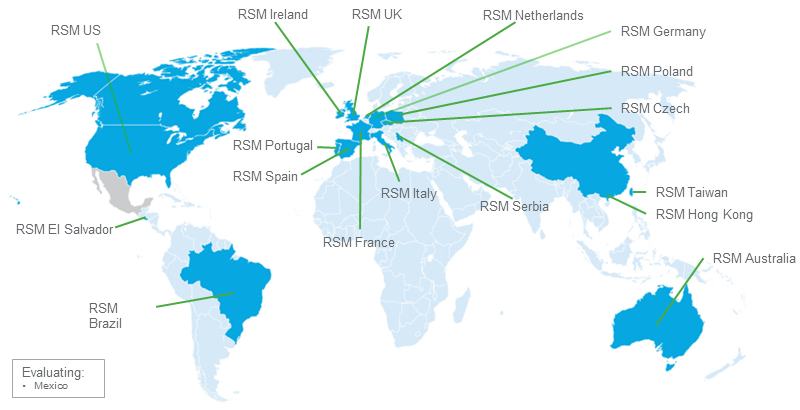 RSM Poland is the biggest Oracle NetSuite Partner in Poland, fueled with qualified experts as well as NetSuite-certified developers and consultants who understand your business. Our Consultants have already helped many Clients streamline their business processes and achieve their goals. Thanks to our NetSuite Solution Provider status, we can deliver our Clients complete NetSuite cloud computing solutions and sell NetSuite licenses on preferential conditions, offering the largest discounts on the Polish market.
Get a 100% free customized demo from a NetSuite expert at RSM Poland.
CONTACT US TODAY
Our goal is to provide you as much information as we can, but some answers around NetSuite pricing and cost will vary based on the specific needs of your organization. That is why before we send an offer, we always try to get to know our Client's current situation and expectations. It helps us prepare a solution perfectly tailored to your needs.