With the beginning of November 2017, we expanded the range of our services to include the Oracle NetSuite Localization Package. As the first company in Poland, we have comprehensively adapted the Oracle NetSuite software to the requirements of the Accounting Act as well as the tax law.
As of today, you will be able to easily prepare, i.e. a Standard Audit File-Tax directly from the Oracle NetSuite system or calculate a VAT-7 declaration in editable format. This facilitation is especially important and useful, as in accordance with the regulation of the Minister of Finance, as of 1 January 2018, the obligation to submit a SAF-T covers all VAT payers regardless of the amount and of the date of registration.
Thanks to the support offered by us, preparing e-declaration files will take less than 5 minutes, and the Official Confirmation of Receipt (OCR) will guarantee the correctness of the submitted documents.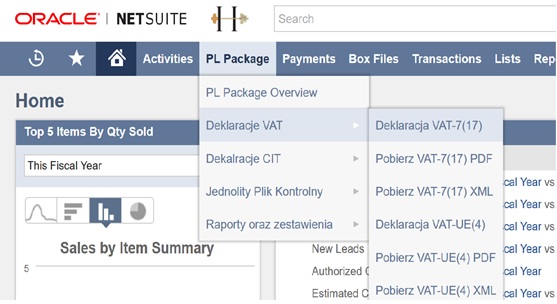 The Oracle NetSuite localization package is an entire range of benefits:
friendly interface in Polish;
the process of preparation and handling of VAT-7, VAT-UE, CIT and SAF-T declarations directly in the Oracle NetSuite system is fully automated, which allows for time savings and safeguards against errors;
flexible system of marking facilitating the fast classification of all of the document items with the SAF-T aggregates as well as items in the VAT declaration;
an additional automated import of documents, ensuring the handling of entries with the consideration of both the SAF-T and the VAT declarations (a uniquely significant functionality due to the frequently used external sales systems, such as e-commerce or the dispersed Detal POS);
a series of analyses and sets for internal control purposes, facilitating the verificaton of processed data, both from the reporting as well as the results point of view (available in any Excel, CSV, PDF and Tableau format),
automatically defined currency daily exchange rate, being a great facilitation in the issuance of currency documents as well as the accurate calculation of the VAT registers and accounting entries,
trade document templates issued in the system fulfilling the guidelines of the Goods and Services Tax Act.
Within the framework of the provided service, our IT Consulting Team offers:
the implementation of the Localization Package in the Oracle NetSuite system,
full product techincal support - the handling of technical incidents,
supervision over the consistency and compatibility of the services in the system - each adjustment of the product to the changes introduced in the new versions of the Oracle NetSuite software,
supervision over the product's compliance with the provisions of law in force in Poland - ajustment to the requirements of the national financial institutions,
annual content related as well as functional updates - i.e. the provision of new VAT declaration templates as well as the preparation of additional support tools (reports, sets).
If you need support in the scope of IT solutions, optimization or localization of the Oracle NetSuite system, please contact our expert:
e-mail: netsuite@rsmpoland.pl
tel. +48 61 8515 766
fax +48 61 8515 786