"New provisions regarding the taxation of income from undisclosed sources" is the subject of a lecture, which will be given by Sylwia KOZŁOWSKA, Tax Consultant at RSM Poland, during the 2015 May-Day Tax Workshops. The meeting organized by the Student's Academic Club – TAX, will be held on May 12th at 4:45 p.m. at the main building of the University of Economics in Poznań in room 111 A.
The "May-Day Tax Workshops" is a project created by SKN TAX, thanks to which participants of workshops, discussions, case studies, as well as training sessions on the subject of taxes have the opportunity to expand their theoretical knowledge and also to learn about tax issues from the practical side. In the course of this year's 8th edition of the open lectures and workshops, tax fans as well as experienced tax advisors will debate on topics including: tax effects of using cars in a business activity, taxation of controlled foreign companies (CFC), CIT for selected restructuring processes, documentation of transfer prices as well as facts and myths regarding the Polish tax system.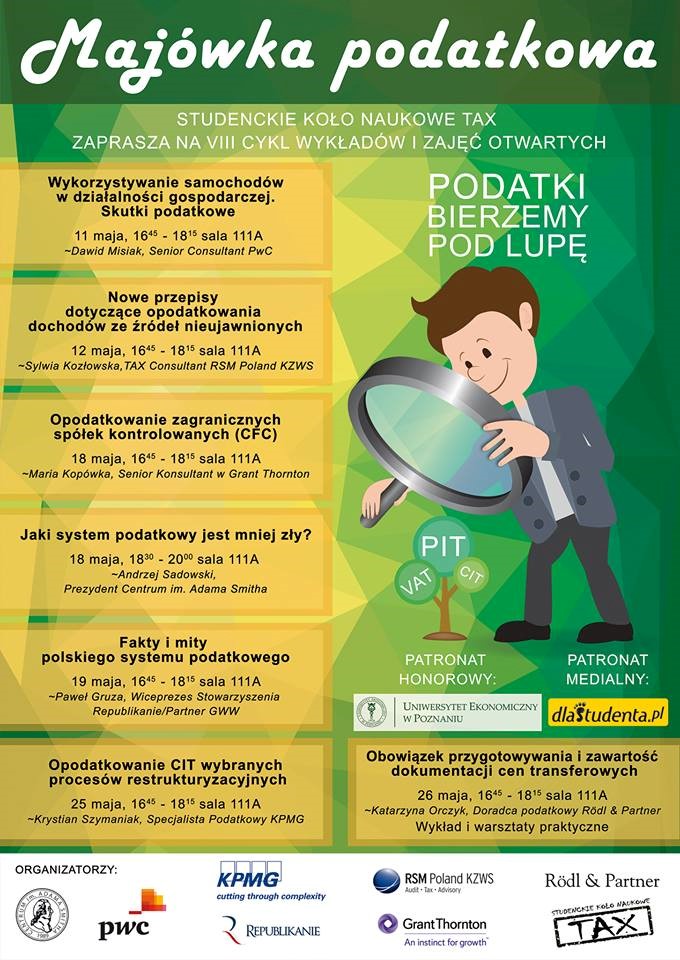 Sylwia KOZŁOWSKA is a specialist on the topic of corporate taxation and also on tax settlements for expatriates in Poland. At RSM Poland , she supports clients, indicating tax effects of planned business actions, commercial transactions, contracts as well as indicated economic events. She implements projects connected with preparing tax documentation for transactions carried out between related entities, in a comprehensive manner. She is also the author of publications on the subject of taxes (including RSM Poland's newsletter).
More information and a detailed schedule of lectures can be found at: https://www.skntax.ue.poznan.pl/.