Przemysław POWIERZA
tax advisor, Tax Partner at RSM Poland
Head of German Desk
The first months in Poland, as in any new place, are challenging: a foreign country, new people. It may still be the same company, but work organisation is somehow different. Not to mention job challenges – new tasks, time pressure and HQ are keeping their eye on you... At this point the CFO who had been delegated from Germany to Poland is showered with unfamiliar documents from HR: declaration of this, declaration of that, one information request, then another, further summaries, and on top of all: Forbearance of fiscal crime doer punishment. What is that even supposed to mean??? Just a warm welcome to the institution of income tax in Poland; or rather to those who have the daily 'pleasure' of dealing with the Polish Tax Office.
An HR & Payroll headache
A Polish HR staff member will be utterly surprised by the German's offense – how come he is being turned into a criminal even before he managed to unpack his stuff? The HR lady is doing her best to keep everything under control, but there you have it: sheer ingratitude... On the other hand no German understands how you could possibly have that many forms to fill in for starters? And why does anyone need all this in the first place? A single form, be it 40 pages long, but accompanied by a handy guidebook – now that's something different. But 12 separate forms? Where is the sense in that?
Advisors as diplomats
This kind of miscommunication can be easily avoided. However, it will take more than simply speaking German to a German, and Polish to a Pole. This is where professional advisors come in hand, understanding the expectations and interest of both parties. This is where details do matter. A whole lot of details. Something that seems perfectly obvious to us is not going to be that obvious to a German. And this goes for both parties. How is anyone supposed to know all this?
Following George Washington's advice: being aware of the difficulties ahead of us is already half of the success. That is exactly why years of experience, both good and bad, are so important.  Ask any diplomat. Because what the German Desk really is, is a Team of professional advisors and diplomats at the same time. These are people who, when caught between wind and water, are not there to panic. They will analyse the problem and lay it out confidently. Just in time to prevent blood spill...
The German Desk: For your peace of mind
At the German Desk we know that not only every CFO, but all those responsible for a company's development in Poland, prefer to have any issue first discussed with their advisor - honestly, in private, almost as if it were a confession. It can easily turn out that the eagerly sought order and peace of mind, close to that you would have in Germany, may be achieved by filling out a few necessary forms. And the fact they have all these frightening titles? Well... That is just the way Polish official language is. You can put it in milder words when using German. And at the same time take care of legal and tax matters accordingly.  After all, the goal is to have everything in its right place. Wie zu Hause.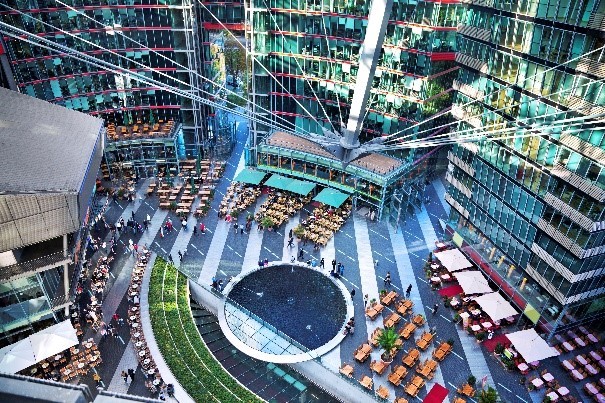 [Potsdamer Platz, Berlin]