Sebastian GOSCHORSKI
Business Development Partner at RSM Poland
Supply chains even more sensitive to disturbances
With the changing coronavirus situation and the developments in the geopolitical situation, this is a very good time to rethink your company's supply chains and the location of production capacities. According to a report by the Bank of America, the pandemic caused supply chain disruptions in 80% of industries, thus forcing 75% of companies to take action in order to introduce some changes, in particular consider new locations.
Until recently, the production strategy where most of the production was located in Asia was considered a very good one, due to the cost element. It not only allowed to save a lot on production, which usually resulted in keeping it out of the home market, but also to operate in the just-in-time environment despite the considerable distance. Unfortunately, disrupted supply chains in the new reality have shown that things are getting worse and its is actually a good idea to have at least some production capacities located closer to your customers, in particular those in Europe. Especially as this is not the first time that disruptions have occured within a very short time, thus preventing us from getting prepared.
Supply chains risk being disrupted like never before, and if you do not prepare for this properly, products may not get delivered, and the company valuation and the management board may be jeopardized.
We have seen this in 2011, after the tsunami in Japan and the Thailand floods the same year. At present, we do not know if another wave of coronavirus will hit us, and, what is more, a potential trade war between the US and China remains a big unknown. As a result, supply chains risk being disrupted like never before, and if you do not prepare for this properly, products may not get delivered, and the company valuation and the management board may be jeopardized.
The industry worst hit by the recent coronavirus outbreak is the automotive sector, where a shortage of parts from Chinese suppliers forced a closure of the Hyundai plant in South Korea. We have seen a very similar scenario in the pharmaceutical industry that strongly relies on APIs (active ingredients). APIs are manufactured only in one country in fact, i.e. China. The price was among decisive factors here: it is so low in China, that for example the last penicillin producer in the US closed down its plant in 2004.
Diversification of production and nearshoring
One way to avoid supply problems is to keep your supply and production diversified. With this approach, you not only maintain supplies to customers in turbulent times, but also respond much faster to changing customer expectations. If you locate your production for example in Poland, you can use QRM (Quick Response Manufacturing), i.e. respond quickly to market changes through reducing the time required for production and delivery. At present, location is of paramount importance if you want to respond smoothly to changes in the market and offer a fast response to changing trends. This is plain to see in the case of innovative, tailor-made products that must be delivered to the ordering party very quickly.
What is also essential is the fact that production in Europe allows you to keep top standards and proper certification of the products. Another example is the apparel industry, as it cannot wait too long for any supplies because they must respond quickly to changing trends.
Benefits of locating your production in Poland
Poland is a very attractive choice for the location of your new production or relocation of your existing production capacities. It opens up sales opportunities on the local market, and on other markets of the European Union and Europe, as well. Investors may benefit a lot from their investment in Poland, due to the following:
large internal market means your product may have a strong presence in Poland;
location conducive to fast delivery to customers and significant savings on logistics;
relatively lower payroll costs and very educated staff;
experience of staff in highly specialised production;
high integrity standards;
extensive sub-supplier base;
dedicated companies to manage the entire investment and construction process;
easily available land for investments, with the infrastructure ready, i.e. in good locations and prepared in legal and technical terms;
relatively easy access to raw materials and any materials needed for the investment;
access to the capital market and funding opportunities.
There are many examples of companies that decided to locate their production in Poland, among other global companies from the automotive industry or the production of household appliances.
If not now, then when?
With a combination of a relatively inexpensive and educated workforce and a location almost in the centre of the European Union, Poland makes a perfect destination for your investment. In addition, thanks to EU assistance, the road infrastructure keeps improving, thus allowing for fast transport. What is important, any relocation decision should be made as soon as possible, because according to the latest CFO UBS Evidence Lab survey, nearly 76% of companies producing in China are planning to move their production either in total or in part.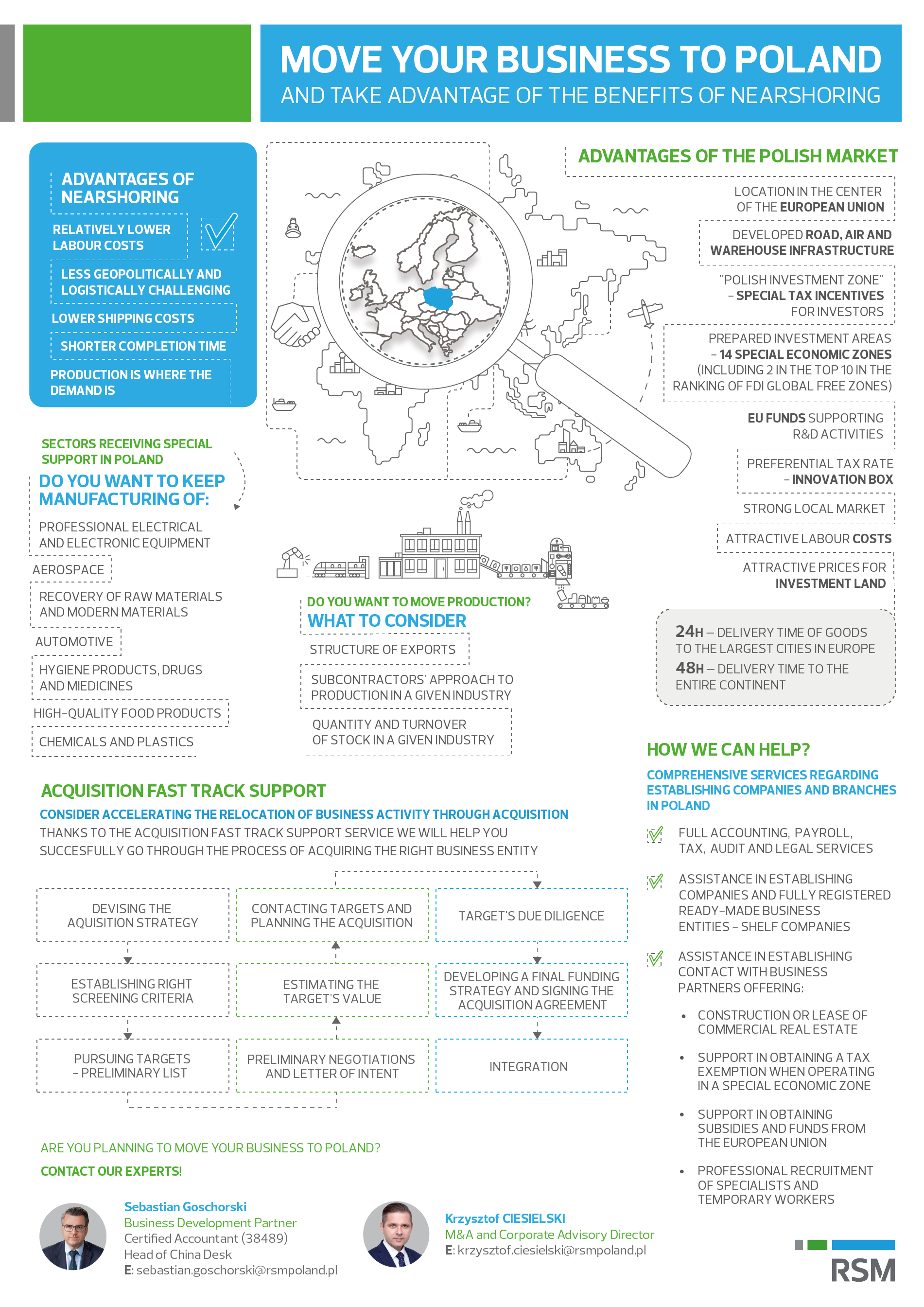 WANT TO KNOW MORE?
Subscribe to RSM Poland Newsletter to stay up-to-date on all legal, financial and tax matters. Benefit from the expertise of our professionals.
Subscribe